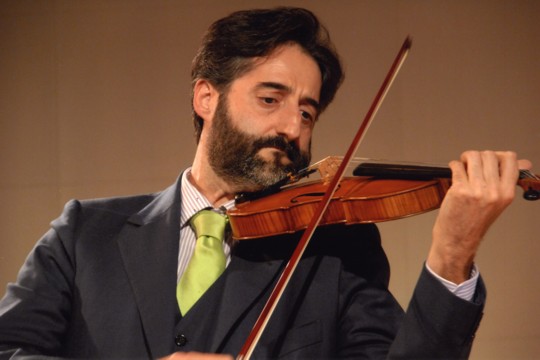 Professional Experience / Employment History
Daniele Brancaleoni
Address: via Caduti di Cefalonia, 8
31100 Treviso Italy
Education:
Graduation, Liceo Scientifico Paulucci di Calboli, Forlì, Italy 1984
Graduation, Conservatorio G.B.Martini, Bologna 1985
Teorical Concours for teaching Musical Education at the Secondary School 1985.
Master Class, Budrio's Theatre Accademy in Bologna, 1985 to 1987
Master Class Italian Youth Orchestra, Scuola di Musica di Fiesole First of the Second Violins1985 to 1986.
Master Class, Scuola di musica di Fiesole teacher Carlo Chiarappa with Scolarship 1986.
Concours for teaching violine at the State's Conservatories 1990.
Master Class, Accademia Chigiana di Siena teacher Boris Belkin with Scolarship 1991.
Master Class, Scuola di Musica di Fiesole teacher Giuseppe Prencipe first Violine of San Carlo's Theatre (Naples) 1992.
Master Class at Accademia di Musica di Asolo (Venice), teacher Giuliano Carmignola 1996.

Graduation with 110/110 at Conservatorio"Cherubini" in Florence, 2007

Grauduation with 110/110 at Ca' Foscary University in Venice in 2014 in Musicology and performance seiemce,2014 .
Areas of Reserch
Professional Experience Employment History
Teaching Contests:
Conservatorio Jacopo Tomadini:
Professor of Violine and Professor of the Pratice of Music in Orchestra , 2007-present
Professor of the Pratice of Baroque Violin, 2007
Conservatorio L.Canepa di Sassari
Professor of Violine 2005-2007
Professional Work
Performances in Orchestra
Maggio Musicale Fiorentino, 2004
Maggio Musicale Fiorentino, 2003
Orchestra Regionale Toscana,2000-2006
Orchestra Filarmonia Veneta, 1993-2000
Orchestra Pomeriggi Musicali Milano 1995
Orchestra Pomeriggi Musicali di Milano, 1993
Orchestra di Stato di S.Marino, 1992
Orchestra Sinfonica Arturo Toscanini 1989-1991
Maggio Musicale Fiorentino 1987
Youth Italian Orchestra 1985-1987
News

Č docente di Violino presso il Conservatorio G.Rossini di Pesaro.

---

Performance a Fiesole: Concerto per violino solo e voce recitante


---

Pagnacco, 2015

 

 





Concerti

Mercoledi 18 Agosto 2021: Sagra Musicale Malatestiana ORCHESTRA DA CAMERA DI RIMINI CONCERTO DEDICATO ALLA MUSICA DI VERDI GRATUITO. 22 febbraio 2020 ore 18 Palazzo di Francia, via Roggia 12 Treviso Musiche di Luigi Boccherini: quintetti con chitarra "Fandango", "Ritirata di Madrid"